Philanthropy In A Box Giving Program: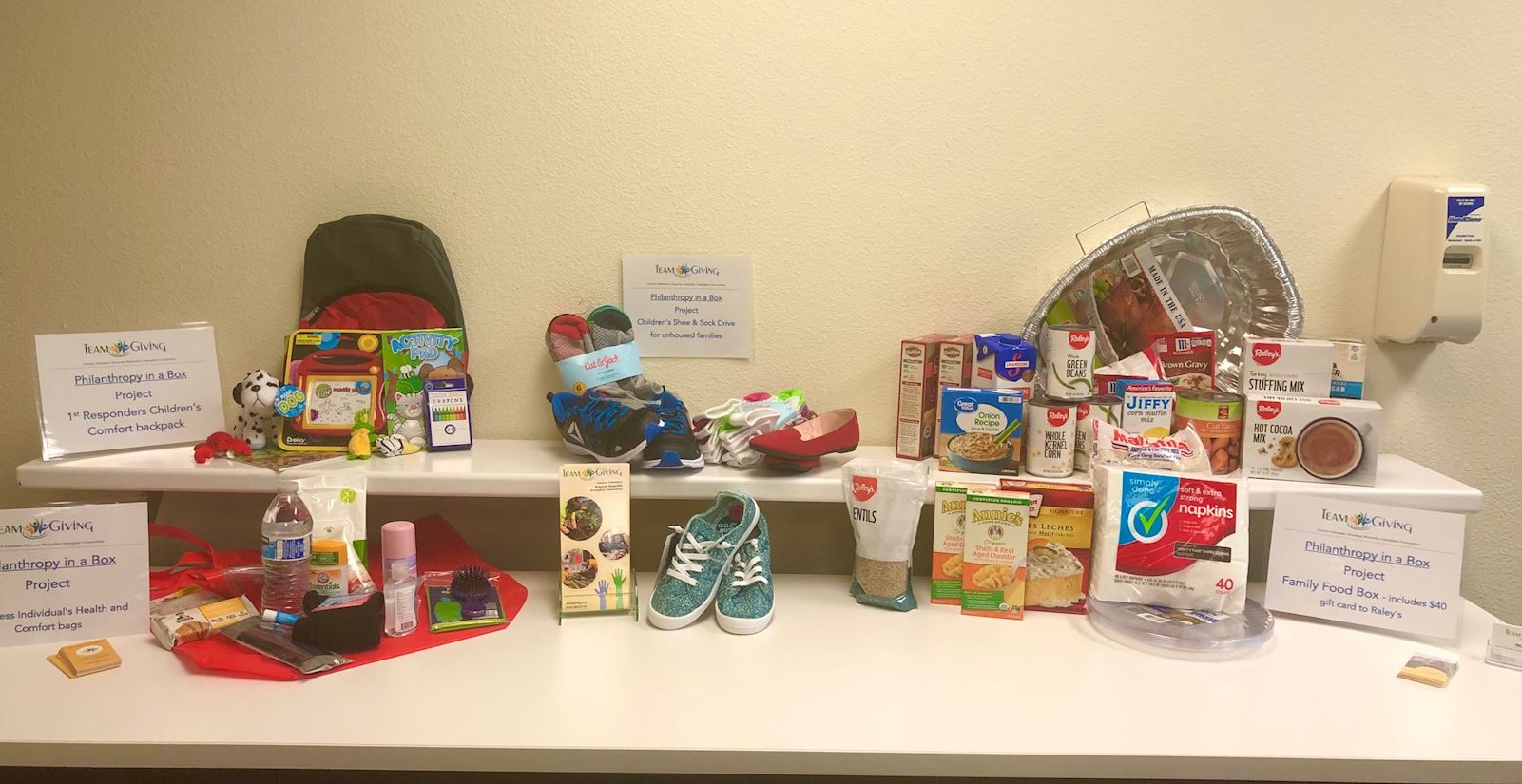 To support our nonprofits, a business or group can select special Philanthropy In a Box projects to match their passions and interest. They can choose from our selection below and the kits may be assembled at your place of business as a volunteer event or Team Giving can handle all the packaging needs. You can also provide personalized notes of encouragement and hope to be added to each completed box or bag.
The finished project will be delivered to the nonprofit(s) of your choice.
Family Food Box:
Nutritious, healthy food box for a family of four includes enough food for 2-4 meals and includes paper plates, cutlery, napkins and paper towels and more. A $40 gift card from our partner, Raley's Supermarkets, is included to shop for perishables.
Comfort Backpack for Children:
A cuddly stuffed animal, finger puppets, activity book, crayons, coloring book and fun interactive toys, all in a sturdy backpack. Used by peace officers, firefighters and other 1st responding caregivers to give comfort to children in traumatic situations.
Unsheltered Neighbor Health and Comfort Bag:
Water bottle, lip balm, tissues, hand sani-wipes, masks, comb, deodorant, body wipes, snacks, health items, rain ponchos, new socks and other goodies in a reusable bag.
Shoes and Socks for Unhoused Families and Children:
A group can provide a variety of new shoes and socks for children of all ages who are currently unsheltered or underserved..
Welcome Home Baskets for Domestic Violence/Human Trafficking survivors:
Laundry basket filled with fluffy towels, robes, bath products, body and nail care, candy, journals and hygiene products to help them on their journey to recover and new lives.
Unsheltered Pet Care Kits:
For the four-legged friends of our unhoused citizens, a kit with a leash, collar, light blanket, toy, treats, small bags of dog food and dental chews to care for their happy, healthy pets.
Children's Wellness Kits:
Water bottle, healthy snacks, sidewalk chalk and activity ideas, jump rope, sunglasses (provided by the company), information on farmer's markets, passes to local activity centers, healthy recipes, all in a reusable lunch tote.
Unsheltered Youngsters Weekend Food Bag:
For many unhoused children, food insecurity increases on the weekends when there are fewer resources available. Our nonprofit partners identify children in their care who are at risk and sends one of these reusable bags full of easily prepared, non-refigerated food items for the weekend to help combat hunger. Included are beverages, fruit and jello cups, instant oatmeal, macaroni and cheese, tuna and cracker packs, fruit treats, granola bars and other healthy snack items.
Foster Youth New Home Kit:
Many of our foster youth go through nonprofit programs for education, employment and social lifestyle enhancement finally secure their new home or apartment. Most have nothing to start their new home; there is a need for a basic home kit with items like kitchen towels, sponges, dish soap, pots and pans, basic kitchen tools, a table setting for four, basic bathroom needs (bathmat, shower curtain, toothbrush holder, bath towels), a laundry basket, etc. needed to set a up an efficient home. The company has the option to include a gift card for pizza or burgers to celebrate their new lives!
Refugee Resettlement Kits:
There is a great need to sponsor our newest local citizens as refugees from Afghanistan and other countries settle in our area. Items such as cleaning supplies, towels, bedding, dishes and other basic necessities are needed to help welcome our new neighbors. There are many different options with this project, please let us know how you wish to help welcome our newest community members.
***************************************
All of these options can be customized to meet the needs of any participating business and the philanthropy budget available as well as address the areas of interest to support. Minimum packages of 25 are necessary to make the most cost-effective purchases so your business can make the biggest impact.
Thank you for considering our Philanthropy In a Box Program supporting
Team Giving's nonprofit community!
Conquer IO works with RIse Against Hunger

Gutterglove makes backpacks for kids!

CPS HR Consulting makes comfort and care kits for
Unhoused citizens and their furry friends!